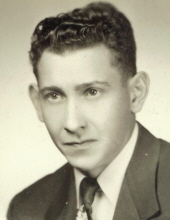 Obituary for Donald Yadon
Donald E. Yadon passed away Saturday, August 11, 2018, at Deerfield Retirement Community in Urbandale, Iowa. Donald is survived by his wife Cathy; and children Dr. Linda Ford, The Honorable Keith Kreiman, Shelly Yadon, and Dawn Stahl. 8 grandchildren and 7 great-grand children, as well as numerous extended family and friends. He was preceded in death by his parents, Eunice (mother) and Clarence (father), Yadon. Donald A. Kreiman (son), his three brothers, Jim, Nate, Ernie Yadon.

A Private family funeral service will be held at a later date. 

Don Yadon was born in Deer Creek OK. Don served in the Navy (Seabee) in the South Pacific during WWII. Don graduated from the University of Denver CO in mechanical engineering.

Don & Cathy Yadon, along with all their teammates, built two amazing Hydraulic Cylinder Manufacturing Companies. United Hydraulic Corporation in Waverly and Hampton Iowa. Then Seabee Corporation in Hampton, Iowa which included a satellite division in Pocahontas, Iowa. These two companies employed hundreds of people over many decades. Don Yadon was President and CEO of these companies, along with his wife Cathy Yadon. They, their children, and their teammates all worked very diligently, side by side together, through all the tough and prosperous years. In Don's heart, Don considered ALL their teammates as one very BIG family. Don & Cathy Yadon want to extend their forever gratitude and thank yous to each teammate for their "Can DO!" attitudes! God Bless each one of you! Don demonstrated that tenacity and everyone's hard work paid off. Don was honored with the distinction of the Iowa's Small Businessman of the Year Award in 1974, which was presented by Governor Robert D. Ray. After retirement, Don restored over 22 World War II Jeeps back to military spec's condition. He loved working in his own shop. The family called it the Yadon's 3rd unofficial business.
 
In lieu of flowers, memorials can be sent to the Hampton, Iowa Senior Citizens Center in Hampton, Iowa 50441

Our families truly appreciates Deerfield Retirement Community for their 110% compassionate commitment of care given to Don Yadon and his family over the years.