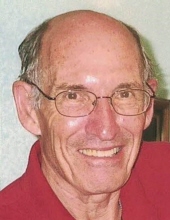 Obituary for Wayne Jensen
Wayne Howard Jensen, 83, of Waukee, Iowa (previously Spencer, Iowa), passed away peacefully with his daughter by his side at 1:45 a.m. on Saturday, March 3, 2018, at Legacy Pointe nursing home in Waukee, Iowa, from a 6-year battle with a form of Parkinson's Disease. Wayne was born September 23, 1934, in Benton Harbor, Michigan to Nels and Lena (Rotz) Jensen. He lived most of his life in Spencer, Iowa.

Wayne graduated high school in Benton Harbor, Michigan, class of 1952. He graduated from South Bend School of Business and Economics and later from Michigan State University. He was definitely a Spartan despite the fact that both of his kids are Wolverine fans. He was a DK2 in the U.S. Navy from 1957-59.

Wayne was a passionate man who enjoyed automotive and detail work on cars and boats. He worked as the Computer Manager for Arnold Motor Supply in Spencer, Iowa, and then at Mau Marine, Okoboji, Iowa, in his early retirement years. In his spare time he enjoyed collecting and working on classic cars, boating at Lake Okoboji, running and lifting weights at the Spencer YMCA, listening to music, and participating in the Okoboji half marathon each year.

Wayne was extremely loving and very proud of his two children, Mark (Spencer, Iowa) and Malea (Waukee, Iowa), whom he raised as a single father since they were young. He was preceded in death by his parents, Nels and Lena Jensen; and his brother, Norman Sherwood Jensen.

Wayne took extreme pride in his kids. He never made a fortune, or a noise. Wayne was a relatively quiet man. He enjoyed his alone time sitting in the driveway watching the cars pass by in front of his home on West 9th Street. In the world where men are seeking after fame, Wayne had only his kids in mind. He taught them to be independent, play sports of all kinds, care for their things especially their cars, mow and care for greener than green grass, to love friends and family, and to just be thankful. He wanted only the best for his children and would give anything to make their life special.

Wayne excelled at detailing cars. Many of you will recall driving by his house and seeing him washing his cars in the driveway. He loved collecting cars and driving them around town and to the lakes.

Wayne took fashion cues from no one. His signature every day look was usually a pair of Levis, worn in t-shirt from his daughter, steel toed work boots, an old wool navy jacket with a beanie cap rolled like a navy sailor. Then, when he worked out at the Spencer YMCA, he again wore out of fashion hand-me-down sweatpants and cut up sweatshirts. Wayne enjoyed visiting with all his friends at the YMCA and did not hesitate to give advice regarding diet and exercise. Wayne was very much regimented with his daily activities and diet as many of his friends would attest.

A special thank you to the St. Croix Hospice in Urbandale, Iowa for their loving care and support. Also thank you to Caldwell Parrish Funeral Home for all of the arrangements.

The family will receive friends on Saturday, March 10, 2018 from 9:30-10:30 a.m. with a 10:30 prayer service to follow at Caldwell Parrish Funeral Home, 8201 Hickman Rd, Urbandale, Iowa 50322. Graveside service will be on Monday, March 12 at 2:00 p.m. at the Iowa Veterans Cemetery, 34024 Veterans Memorial Drive, Adel, Iowa 50003. Please, no flowers. Instead, the family asks that you make memorial donations in Wayne's name for services and burial.
Previous Events
Visitation
Caldwell Parrish Funeral Home and Crematory
8201 Hickman Road
Urbandale, IA 50322
Service
Caldwell Parrish Funeral Home and Crematory
8201 Hickman Road
Urbandale, IA 50322
Graveside
Iowa Veterans Cemetery
34024 Veterans Memorial Dr
Adel, Iowa 50003
Cemetery Details
Location
Iowa Veterans Cemetery
34024 Veterans Memorial Dr
Adel, Iowa 50003